About M.D. Complete Fitness
MICHELLE DUMOVICH NC
OWNER & FOUNDER OF  M.D. COMPLETE ITG WEIGHT LOSS CLINIC & PILATES FITNESS CENTER
Michelle Dumovich has her Nutritional Consultant diploma with the International Institute of Holistic Healing which is recognized by the American Association of Nutritional Consultants A.A.N.C.  NASM-OPT, SMC Sports Medicine and Nutrition Certified with the National Academy of Sports Medicine. ACE Certified with the American Council of Exercise.  Pilates Master Instructor and Pilates Reformer Specialist, Neuromuscular Physiology Certified through NASM, Certified with NASM on Integrated Human Movement, Power Plate Certified Specialist, Advanced Yoga, and Pilates with Props and Cycling Certified, NASM-SMR Trained, Gliding Master Trainer, Sports Conditioning & SAQ Specialist and Owner of the M.D. Complete Fitness Inc. in Trinity Florida.  Also, has been a phone Contributor to the Woman's Health Magazine, currently blogs and writes for Pilates Style Magazine and is featured in the Pilates Style Magazine Success Story 2011 issue. Filmed commercials for professional DVD and TV.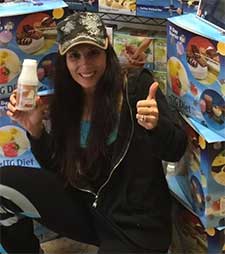 Spokesperson for the Versa Climber machine and was by the Power Plate Co. as a Power Plate fitness specialist and advisor promoting all the benefits the Power Plate acceleration training has to offer.  Michelle has also been chosen to be a designated ITG weight Loss Center provider.  This has helped many lose weight and keep it off safely.

Michelle has had well over twenty professional and dedicated years in the Fitness and Wellness field. Her style is all about results and hard work.  She gets the job done and makes you dedicated to fitness in a fun, passionate and exciting way. Once you train with Michelle you will never look back.

Staff Members
Michelle Dumovich — Pilates Trainer & ITG Coach
Leona Beadle — Pilates Trainer & ITG Coach
Kelly Payne — Pilates Trainer & ITG Coach
Alissa Caputo — ITG Coach